TESTIMONALS
"We are really impressed with the design options you have presented. That is great Much more than what we expected. The money well spent. We were struggling to figure out, what we could do, you came with such good options in 3 weeks – very impressive!"
We found you extremely professional in your approach, listening to our needs…the fact that we got approval from PCC in 5 weeks speaks a lot about the attention to detail and professionalism with which you undertook the work.
'Working with you has been an enjoyable experience, You provided us with a design solution that met our needs and that will greatly enhance the appearance and value of our house. We are looking forward to live In our newly renovated home.
Dealing with Lalit was an absolute pleasure. He listened very carefully to our wishes and dealt with our concerns patiently. His constructive ideas helped produce a final design we were pleased with.
The one important area we never had any trouble with was Lalit's punctuality and communication. Meetings were on time, every time!
Although our project was not large or overly complex Lalit gave it his full attention. In summary, we were happy customers
Lalit, Thanks for extra info.. We have submitted the plans and received approvals within two weeks.. Had absolutely no difficulties at all – thank you very much…. Again , thank you very much for thinking of us…
regards
Lalit delivered the concept design and prepared DA documentation required for our home. His input was invaluable during the concept design process. He walked us through the process, was patient and tactful with his advice and recommendations. He presented a design that was creative, functional, aesthetically appealing and incorporated our requirements. He also ensure that the design would meet council requirements. I would'nt hesitate in recommending him
My wife and I undertook a major renovation of our house, and had great difficulty finding a suitable architect. Based on a reference from a work colleague we approached Lalit Mital at Dynamic Design Solutions for assistance. He worked through our requirements in a very thorough manner, and developed a concept for our renovation which met our needs whilst also introducing elements that created an overall design with a "wow" factor. He then worked through the design development with us, refining the plans until they exactly met our needs. He also prepared all of the documents required for DA approval, which was obtained with no additional questions being raised by Hornsby Council.

Lalit then provided us with references for other professionals to assist with executing the renovation, and kept in touch with us through the process to ensure that the end result was achieved.

Since completing the project we have had to sell the house to move interstate. We sold after only two house showings for a very good price. The feedback from agents and viewers was very positive – they commented that it is a stylish, modern and airy home. Quite a transformation from the 1970's drab house that we purchased. We are pleased to recommend Lalit and Dynamic Design Solutions Architects
Lalit has a very thorough understanding on council requirements, heritage issues, actively coordinating with consultants. Highly recommend
Dynamic Design Solutions were instrumental in achieving a Development Consent to one of our client's heritage listed property in North Road Ryde. The client scope was to add a rear second storey consisting of terminating the existing stairway and creating a new naturally lit stairwell leading to the existing 4 bedrooms and adding a new master bedroom with ensuite above an existing lounge room. Dynamic Design Solutions came up with a sympathetic design, that deftly appended new with old, liaised with council heritage advisor and got the approval. From concept design to DA approval, Lalit showed his natural ability in managing sometimes this difficult process.
I can strongly recommend Lalit to anyone who is considering a design particularly in Heritage and Conservation area
AWARDS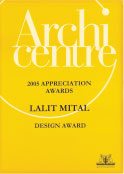 Archicentre Appreciation Awards 2005
Archicentre is the building advisory service of the Australian Institute of Architects. Each year it nominates on Awards to honour the performance architects in various categories. The Design Award' signifies the outstanding contribution and performance in Design Category for 2005.
Urban Development Institute of Australia Awards 1998
The award for excellence as the Best Medium Density Residential Development and Best Community Development was awarded to the Design Team at JBP In Liberty Grove for Liberty Grove Residential Project.
Dulux Colour Award 2001
Dullx Colour Award for Exterior Commercial prole. category in 2001 was awarded to the Design Team at TBG working on the 'Macquarie Centre project for Use of excellent pallets of colours